Criminal drug-related activity claims hundreds of lives and costs Australians millions of dollars in healthcare and law enforcement every year.
The campaign, part of the federally-funded national Crime Stoppers 'Dob in a Dealer' campaign, runs from October 2018 to March 2019. It targets high-level drug dealers, grow houses, clandestine laboratories and drug-related activity in the ACT.
We know illicit drugs cause serious harm. You can help us prevent it.
Call Crime Stoppers on 1800 333 000 or complete a report online if you see or hear suspicious behaviour that you think could be drug-related.
It's your community, so it's your call.
What to look out for
Identifying a drug-dealer can be difficult. Some behaviours or indicators include:
Pool chemicals in a neighbour's bin when you know they don't have a pool;
People frequently coming and going from a property, often at unusual hours and displaying unusual behaviour;
Frequent deliveries of plain-packaged parcels;
An usual chemical smell coming from the property, such as ammonia, varnish or paint thinners;
A particular person meeting with others regularly and appearing to transfer something small in the exchange;
Suspicious items such as improvised heating and cooling mechanisms;
Used materials at a property, such as cold and flu medicine packets, gas cylinders or butane fuel cans, stained coffee filters, pH testers or test strips, water pumps;
Laboratory glassware;
Fan or pump noises;
Residents never putting their rubbish out or burning their rubbish;
Blackened, covered or reinforced windows or doors;
Extractor fans;
And various other behaviours that feel odd or unusual.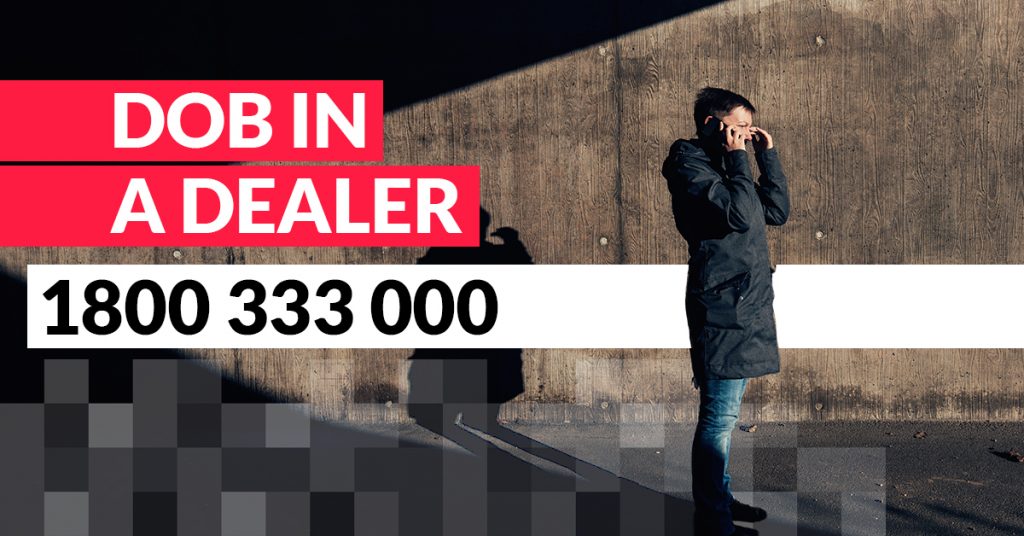 More about Dob in a Dealer
During the last Dob in a Dealer campaign in 2016, Crime Stoppers received an average increase of 95% in drug related information reports from members of the public.
The campaign runs from October 2018 to March 2019 and targets high-level drug dealers, grow house/clandestine laboratories and drug-related activity across Australia.
Every Crime Stoppers jurisdiction in Australia has participated in the campaign, delivering activities to local communities and engaging with local media.
Activities in the ACT and Surrounds
ACT and Region Crime Stoppers also supported this campaign in the surrounding region to highlight the importance of the reporting information about drug dealing to Crime Stoppers. This included public displays in Gungahlin and Tuggeranong and media activations in Yass and in Queanbeyan.
These events were supported by ACT Policing, NSW Police, Yass Valley Council and Queanbeyan-Palerang Regional Council.